Chronic Inflammatory Disease Therapies
---
Our highly skilled infusion nurses perform a thorough patient assessment before initiating immunosuppressant treatments for such conditions as:
Adult and Pediatric Crohn's Disease
Adult and Pediatric Ulcerative Colitis
Rheumatoid Arthritis
Psoriatic Arthritis
Ankylosing Spondylitis
Plaque Psoriasis
In addition, our team of experienced infusion nurse practitioners, nurses and reimbursement specialists provide comprehensive, patient-focused care, while verifying your benefits and obtaining authorizations.
Immunoglobulins (IVlg/SCIg)
---
Help minimize recurrent autoimmune, infectious and idiopathic diseases and reduce readmissions with proactive, patient-focused care.

Enjoy a better quality of life with individualized Immunoglobulin (Ig) therapy and support from local, physician- trusted experts. Infusions are given and monitored by experienced Nurse Practitioners. We customize our services to meet each patient's needs and provide ongoing assistance and support.
Enhance Your Therapy with Thorough Education and Communication
Mosaic Infusion Solutions:
Provides medication therapy education
Reviews insurance benefits with re-authorization support
Reviews product and dose rate adjustments, drug interactions, contraindications of therapy, and supply requirements
Keeps physicians up to date on your progress
Performs physical exams with assessment of normal and abnormal findings on patients and confirms suitability for infusions.
Specialty Medications
---
If you have an acute, chronic illness or complex medical condition, Mosaic Infusion Solutions provides comprehensive care and reimbursement assistance.
Our experts in specialty medications are trusted by physicians to administer therapies to patients requiring the most complex care. Our team of experienced Nurse Practitioners, infusion nurses, infusion coordinators and reimbursement specialists provides specialty pharmaceutical products and clinical services through infusible, injectable, intranasal and specialty medications..
Helping You Overcome Reimbursement Challenges
Many patients taking specialty medications face reimbursement challenges for these highly necessary but costly medications. Our reimbursement team:
Assists patients who are commercially insured with enrollment in manufacturer-sponsored co-pay programs for branded pharmaceutical products
Helps uninsured patients or those with a state or federally funded healthcare benefit program enroll in assistance programs
IV Antibiotic/Anti-Infective Therapy
---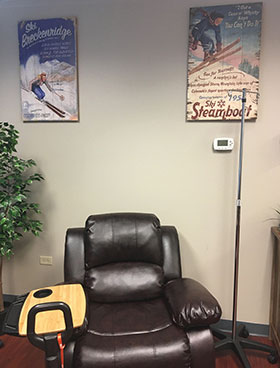 For drug therapy that requires clinical monitoring, Mosaic is the perfect solution.
You get personal attention from an experienced clinical team of Nurse Practitioners and infusion nurses that manage your IV antibiotic and anti-infective therapy in the comfort of our facility. Our experts provide clinical oversight to assist with drug therapy optimization and make recommendations to support physicians on dose adjustments or drug modifications so that you receive the quality care you deserve.
Enhance Your Therapy through Education and Communication
As part of our unique patient-focused program, we provide you with thorough, easy-to-understand education and hands-on training by
Reviewing drug and dose rate adjustments, drug interactions and contraindications of therapy
Maintaining regular, ongoing communication with you to quickly identify and resolve any issues
Enzyme Therapy
---
Enzyme therapy, which involves the administration of enzymes into the body by IV, topically or orally, is used to treat disease, enzyme deficiencies, and other conditions. These medications act to speed up biological processes in the body for better food digestion, especially in Cystic Fibrosis patients. They also cleanse the blood, break down toxins, strengthen the immune system, reduce stress in the pancreas, and build protein muscle. Our experts know the management guidelines for enzyme therapies.
Intramuscular and Subcutaneous Injections
---
At Mosaic we can administer medications that are subcutaneous and intramuscular. Intramuscular injections are given for larger volumes of medication and when faster absorption of the medicine is desired such as an antibiotic, asthma and osteoporosis medications and TNF inhibitors, for example.
Vascular Access Device Care
---
The Mosaic staff is specially trained to manage Vascular Access Devices.
Some drug therapies that are administered frequently require a vascular device or catheter that remains inserted in a blood vessel for a long period of time. Venous access devices are ideal for introducing antibiotics, chemotherapy and pain medications but can cause severe complications such as bacterial infections, bleeding and blood clots among other issues. The experts at Mosaic know what to look for to quickly identify and treat the problem before it escalates.
Other Infused Therapies
---
Mosaic Infusion Solutions is equipped with the latest technologies and drug therapies and has a staff of highly competent professionals to safely administer medications to patients.